Zyrus LP1020 Stimolante hypercar launches in Oslo
Earlier in the year Zyrus Engineering from Norway made automotive history with the worldwide success of the limited edition LP1200 Strada twin turbo hypercar with its unique TÜV certification.
Today Zyrus has launched the new LP1020 Stimolante, a sublime transformation based on the Lamborghini Huracan EVO. The Stimolante retains the phenomenal high performance twin turbo engineering and carbon aero package that has been extensively developed in house over the past years.
This new road and track model is a versatile machine designed for drivers who seek unparalleled high performance, style, and exclusivity in their automotive experiences, available in limited production of only 24 models, customers have full control of personalisation options to make each vehicle unique to any others.
Twin turbos significantly transform the already capable 5.2L V10 engine to produce an incredible 1090 available horsepower. Complimented by specially developed Öhlins TTX (4-way height-adjustable shock absorbers), carbon-ceramic disks, bespoke forged 19" front and 20" rear wheels on Pirelli Trofeo R tires.
The Stimolante offers daily drivability with three different onboard maps, Strada mode at 700hp, Sport mode at 800hp and Corsa mode at 1090hp, all TÜV db certified, the driver has complete control at their fingertips. The Stimolante has a top speed of 347 km/h, and a significant 1300kg downforce at 240 km/h, it can also be legally registered, insured and driven on the road to the track and back due to its unique TÜV Rheinland certification.
Significant carbon fibre designs include an all carbon fibre flat floor, rear diffuser, front splitter, wheel arch vents, two engine air scoop vents, a unique carbon wing, and carbon mirrors, the aerodynamic detailing and cooling is ingenuously crafted for performance. A passenger footwell fire extinguisher is also fitted, front and rear towing eyes and six-point racing harnesses complement the carbon seats with custom stitching.
The specially designed exhaust system is made from lightweight inconel and a titanium half roll cage is custom painted in a complimenting colour scheme.
Driver video logging and data can also be recorded with Zyrus unique electronic 'Smart Dash' control system, sensors provide an iCloud compatible data acquisition, telemetry and temperature monitoring system, where drivers can view parameters and analyse options via their smartphone that can be housed on the dash mount bracket, and upload to the cloud for further analysis off track. The user friendly system also includes two HD video recording cameras for playback and driver analysis.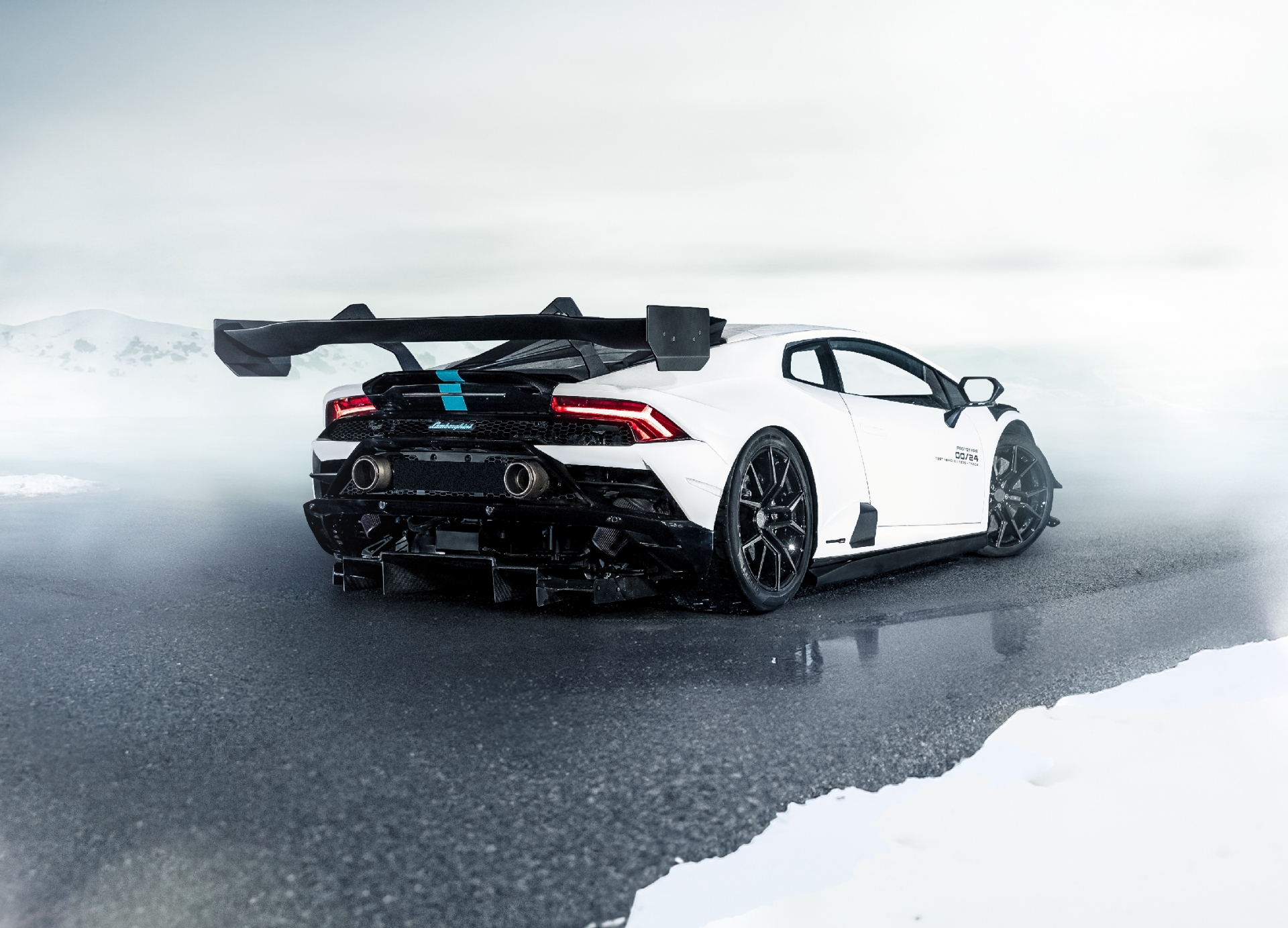 Since 2018, Norwegian firm Zyrus Engineering AS, has been developing and improving the already very capable Lamborghini Huracan platform. To put the theories to the test under the most extreme conditions possible, much of the testing has been done on International race tracks. And with 30 National victories in GT1+ class and two NM Championship titles in 'Racing NM Norway', there is little doubt that the recipe works.
The last two racing seasons were campaigned with the LP1200, all carbon prototype. The trailblazer LP1200 with 1200HP was thoroughly tested on legendary racetracks such as Spa-Francorchamps and the Nürburgring Nordschleife, where it has demonstrated its potential. In total, the LP1200 prototype has been pushed to the limit for a full 18,000 km on track, and it is this technology that you now find today in the LP1020 Stimolante.
What distinguishes the Zyrus LP1020 Stimolante from other modified supercars is, this is the only vehicle of its kind that is certified by TÜV in Germany and despite the extreme performance, the car meets all requirements for emissions (Euro 6), radiation (EMC) and noise level (dB). TÜV has also certified chassis strength and all other modifications and upgrades such as suspension and aero.
Specifications
Engine: 5.2l V10 Twin Turbo 
Max power: 1090 hp / 997 Nm 
Weight: 1592 kg 
Ground pressure: 1300 kg / 240 km/h 
Max speed: 9000 rpm 
Top speed: 347 km/h
Engine power: 
Strada mode – 700HP 
Sport mode – 850HP 
Corsa mode – 1090HP 
(requires entry of personal code 
Combined fuel consumption: 15.8 litres / 100 km (NEDC) 
Combined CO2 emissions: 357 g/km (NEDC)
Wheels & Tyres:
Front wheel: 9.5Jx19″ ET40 Pirelli Trofeo R 265/30R19 Rear wheel: 12.5Jx20″ ET40 Pirelli Trofeo R 335/30R20
Suspension: Öhlins TTX (4-way height-adjustable shock absorbers with load cell and potentiometer that can be read via bespoke Smart Dash  app)
Brakes: Carbon ceramic discs and pads with upgraded cooling via  electric fans
Aerodynamics: Carbon fiber front splitter, underplates and diffuser (tight floor) and carbon fiber spoiler which together provide over 1300kg ground pressure at 240 km/h
Interior:
Seats: Lamborghini carbon fibre seats with custom-stitched design Telemetry: Smart Dash data logging with two HD cameras to  easily analyse data after driving on the track
Safety equipment:  6-point OMP seat belts  Titanium half roll cage  Fire extinguisher
Warranty / Service:
-The LP1020 Stimolante comes with a 3 year / 20,000 km warranty, which uniquely also applies to track driving. 
-Three service agreements are included in the warranty period, intervals are agreed based on the customer's individual needs. 
-A personal familiarization day at Rudskogen Motorsenter Circuit in Norway with Zyrus Engineering's mechanics and development driver (recommended).
The Zyrus Stimolante LP1020 guide price starts at €600,000.
Fuel consumption combined 15.8 L / 100km (NEDC) CO2 – emissions combined 357 g/km (NEDC)