WEC - Sebring Prologue: The Sunday 12 March morning News
Prologue / Day 1 - After the two sessions, Toyota still has the advantage thanks to the 1'48''208 set by José Maria Lopez yesterday morning. The only car in the same second is the #2 Cadillac V-Series.R.Here is Hypercar category ranking after the two sessions :  
1. Toyota GR010 Hybrid n°7 - 1'48''208 2. Toyota GR010 Hybrid n°8 - 1'48''293 (+0''085) 3. Cadillac V-Series.R n°2 - 1'48''429 (+0''221) 4. Ferrari 499P n°50 - 1'49''402 (+1''194) 5. Ferrari 499P n°51 - 1'49''573 (+1''365) 6. Porsche 963 n°5 - 1'49''650 (+1''442) 7. N°6 Porsche 963 - 1'49''869 (+1''661) 8. N°93 Peugeot 9X8 - 1'50''700 (+2''492) 9. N°94 Peugeot 9X8 - 1'51''035 (+2''827) 10. Glickenhaus 007 n°708 - 1'52''203 (+3''995) 11. Vanwall Vandervell 680 n°4 - 1'52''410 (+4''202)  
Hypercar - It was once again a Toyota that was the most assiduous yesterday afternoon, namely the #8, with 74 laps completed. The #7 completed 70 laps and remains, with a total of 140 laps, the Hypercar having swallowed the greatest number of kilometres yesterday. On the Drivers' side, it was Frédéric Makowiecki who drove the most laps of the day. With 60 laps, he completed six more than his team-mate André Lotterer, who himself completed two more than Sébastien Buemi (n°8 Toyota) and Kamui Kobayashi (n°7 Toyota). Kévin Estre (n°5 Porsche 963) did not set a single lap time.
LMP2 - In the drivers' standings, the top nine laptimes of the two sessions were set by United Autosports, Prema Racing and WRT. This is proof of the control of the class by these three teams, who were grouped together this afternoon by less than a tenth. In this class, Rui Andrade (Team WRT #41) completed 65 laps, eight more than Oliver Jarvis (United Autosports #22), ten more than Filip Ugran (Prema Racing #9), Frederick Lubin (#22 United Autosports) and Gabriel Aubry (Vector Sport #10). The #41 Oreca - with 150 laps - was the car that ran the most yesterday.
LMP2 (Bis) - With a lap of 1'52''540 in the #63 Prema Racing Oreca 07, Doriane Pin was the fastest Silver driver in LMP2. The young Frenchwoman completed 40 laps and only managed to beat the class benchmark by 0.748s. A very good start for the young Frenchwoman.
GTE Am - If Porsche, Ferrari and Corvette are in the same second, the best Aston Martin is at 1''458. Claudio Schiavoni (n°60 Porsche / Iron Lynx) spent the most time on track, completing 65 laps. Takeshi Kimura (Ferrari n°61 / Kessel Racing) and PJ Hyett (Porsche n°56 / Project 1 - AO) did three less.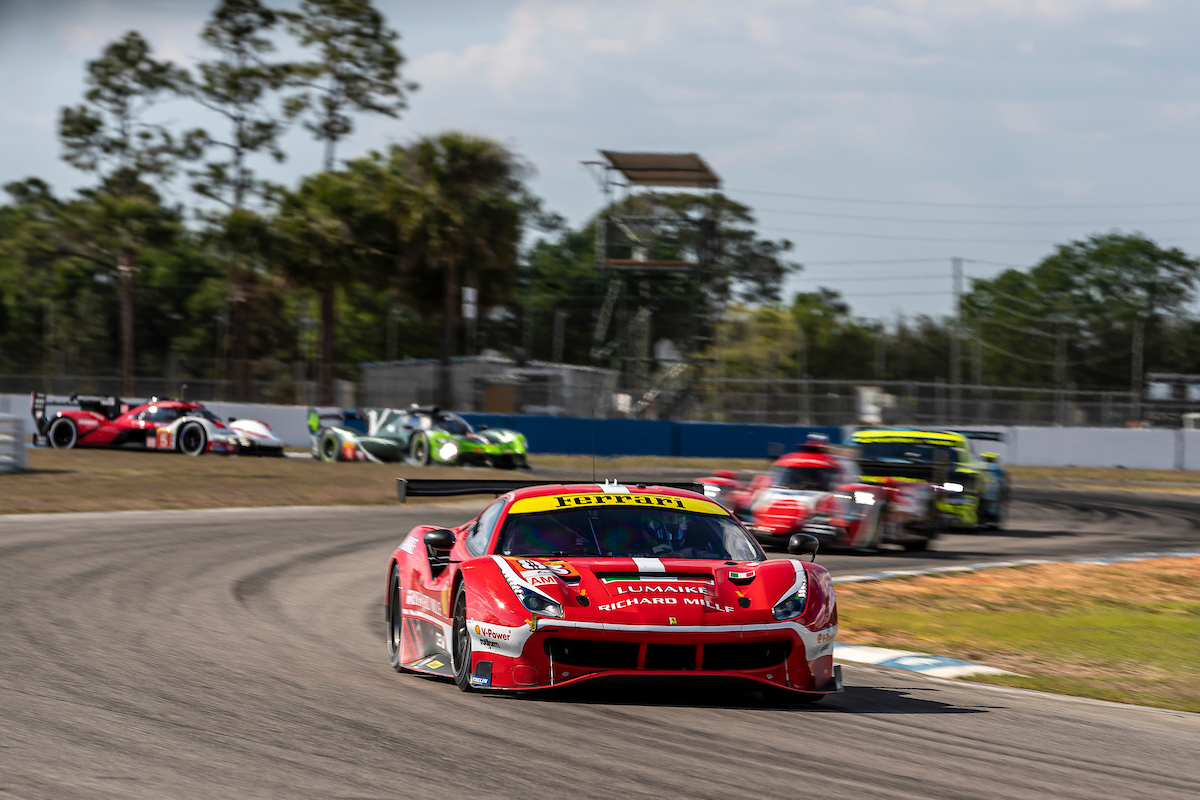 GTE Am (Bis) - Women again, but this time Lilou Wadoux. The official Ferrari driver in the N°83 Richard Mille AF Corse 488 GTE Evo was only 0'540 slower than her team-mate Alessio Rovera. This is a promising start to the new season, his first in GTE Am.
Red flag - Jean-Eric Vergne damaged the #93 Peugeot 9X8 this afternoon after contact with the #10 Vector Sport Oreca (pictures HERE). The second interruption to the session was caused by a broken suspension on the #41 WRT Oreca 07 driven by Ferdinand Habsburg.
Testing - As previously reported (see HERE), Toyota Gazoo Racing will remain at Sebring after the race to conduct an endurance test with its GR010 Hybrid.
Visitor - Maximilian Götz, who is expected to drive for Glickenhaus Racing at the 24 Hours of Le Mans and possibly on other races, is present at Sebring and is even wearing a Glickenhaus T-shirt. But the team assures that, for the moment, nothing is signed with the German driver.