Xwift Racing Events takes a step into international GT racing with Antoine Potty and Etienne Cheli
Xwift Racing Events is by now a well-known name on the Benelux motorsport scene and the team is also taking its first steps towards international GT racing in 2023. After wins in the various classes of the 24 Hours of Zolder, victories in the Supercar Challenge and success in the 24H Series, among others, Pieter Denys' formation is now shifting up a gear with the deployment of a Toyota GR Supra GT4 EVO in the GT4 European Series, one of the success formulas of the internationally well-established promoter SRO. The Belgian team is calling on two young but very talented drivers for that challenge: Frenchman Etienne Cheli and Belgian Antoine Potty.

Xwift Racing Events is the brainchild of East Flanders entrepreneur Pieter Denys, who himself has been successfully getting behind the wheel of various racing cars for several seasons, not only at home, but with equal pleasure during VLN races at the mythical Nürburgring.
"The team's successes in recent years, not least during the 24 Hours of Zolder, are the result of professional work by a whole group of passionate staff," explains Pieter Denys. "Last winter, the pieces of the puzzle fell together to shift up a gear and set up a programme in the GT4 European Series in cooperation with one of the most successful constructors in international motorsport.
We are entering a Toyota GR Supra GT4 EVO, developed and built by TOYOTA GAZOO Racing Europe, for two lightning-fast young guys: Frenchman Etienne Cheli and Belgian Antoine Potty. We are well aware that it will be our first season at international level, but with two strong names behind the wheel, of a very successful GT4 car, we can be ambitious at the same time."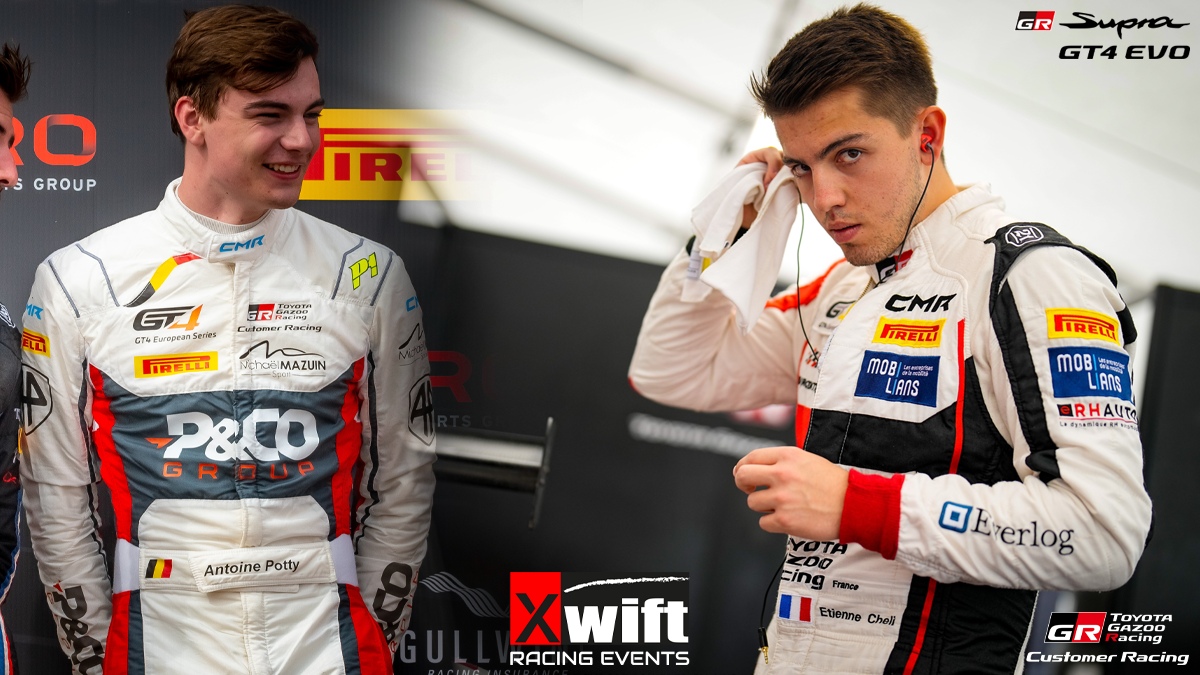 Antoine Potty, the younger brother of Maxime Potty, will turn 20 in April, but already has many noble letters in racing. Not only was he successful in karting, but since 2020 he has been one of the regulars in the GT4 European Series. In 2021, he became GT4 European vice-champion driving a Supra. Meanwhile, he has also become one of the test drivers of the GR Supra GT4.
Etienne Cheli is two years older than his teammate and has had a similar history, with a solid karting education (national and international), a 2nd place in the F4 Feed Racing out of 50 candidates (Racing car managed by Jacques Villeneuve, Formula 1 world champion), 1 F4 race at Paul Ricard (top 8), after which he participated in 2 meetings of the French GT4 FFSA championship in 2021 (2 podiums in Pro-Am on Alpine) then 2 full seasons in the French and European GT4 championships in 2022 in the Pro-Am category at the wheel of the GR Supra GT4 (with a few lap records and two pole positions) during which he acquired solid experience in the category.
The GT4 European Series is a competition reserved for GT4 cars from very diverse and mythical sports car brands, including, besides Toyota, Alpine, Aston Martin, BMW, Chevrolet, McLaren, Mercedes-AMG and Porsche, among others. The championship consists of six meetings with two 60-minute races each, with one mandatory pit stop. The competition starts at the end of April at the Monza F1 circuit and then runs through Paul Ricard (Fra), Spa-Francorchamps (Bel), Misano (Ita), Hockenheim (Ger) and Barcelona (Spa).