BMW unveils new M4 GT4 featuring more natural fibre parts than any other GT racing car in series production
BMW has just launched the successor of their M4 GT4 race car. Building on the great legacy of the M4 GT4 the new version delivers all the raw performance that one would imagine. Meanwhile, it is also pushing sustainability and is now the series GT race car with the most natural fibre parts, giving a good impression of where things are heading.

Bcomp is very excited about recently becoming an official BMW M Motorsport partner. Even more so, as the next evolution of the M4 GT4 extensively uses Bcomp's ampliTex™ and powerRibs™ technologies for a long list of vehicle components. By this, BMW is taking their use of sustainable composite solutions to the next level. As a matter of fact, there is no other GT racing car in series production matching the amount of natural fibre composite parts on the new M4 GT4.
A long-standing collaboration
BMW first started to work with Bcomp's materials in 2019 when they used high-performance natural fibre composites in the iFE.20 Formula E car. From this flax fibre reinforced cooling shaft, the collaboration evolved and soon after, the proprietary ampliTex™ and powerRibs™ natural fibre solutions were found successfully substituting selected carbon fibre components in DTM touring cars from BMW M Motorsport. By trickling down and expanding into other vehicle programs, such developments highlight the vital role that BMW M Motorsports plays as a technology lab for the entire BMW Group. This continues in the form of the latest collaboration with Bcomp to include a higher proportion of renewable raw materials in the successor of the M4 GT4.
More natural fibre parts than any other GT racing car
With the launch of the new BMW M4 GT4, it will be the serial GT car with the highest proportion of natural fibre components. Bcomp's ampliTex™ and powerRibs™ flax fibre solutions can be found throughout the interior on the dashboard and centre console, as well as on bodywork components such as the hood, front splitter, doors, trunk, and rear wing. Aside from the roof, there are almost no carbon fibre reinforced plastic (CFRP) components that were not replaced by the renewable high-performance flax materials. "Product sustainability is increasing in importance in the world of motorsport too," says Franciscus van Meel, Chairman of the Board of Management at BMW M GmbH. "So, we are delighted to have Bcomp on board as an official BMW M Motorsport partner for the BMW M4 GT4 project."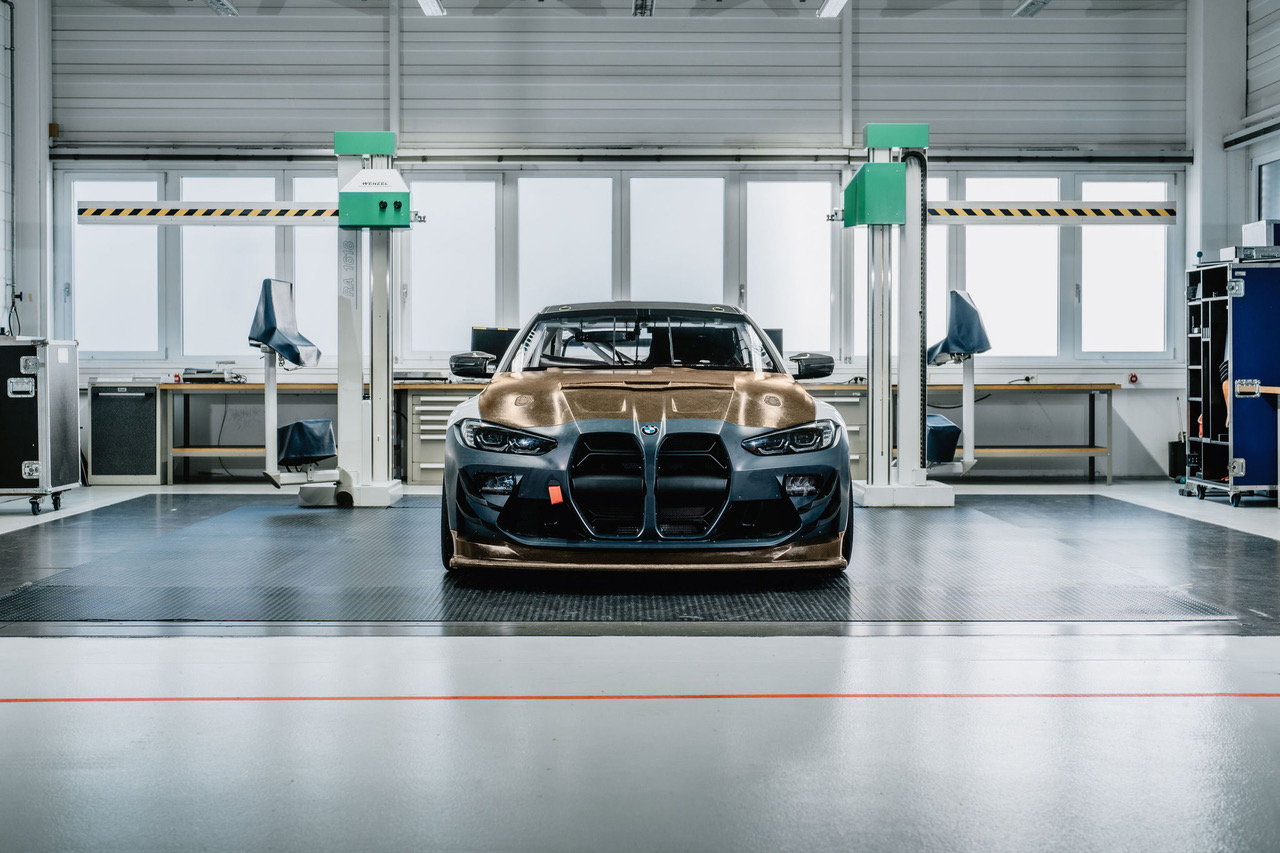 More sustainable and safer components
Designing components with the specific properties of ampliTex™ and powerRibs™ in mind allows BMW to fully exploit their potential in the new M4 GT4.  Substituting synthetic carbon fibres with the renewable ampliTex™ flax fibre fabrics and powerRibs™ also allows for significant greenhouse gas emission reductions from cradle to gate of up to 85% while adding performance benefits like improved vibration damping.
Furthermore, the natural fibre components add safety benefits for the driver and everyone else on the track. While contact and crashes are inevitable in tight racing, the failure mode of exposed parts plays a huge role. Traditional CFRP components tend to splinter upon impact, producing sharp debris and splinters that can cause punctures, and put the driver, marshals, and pit crew at risk. Natural fibre components with ampliTex™ and powerRibs™, on the contrary, have a ductile failure mode without sharp debris and splinters which prevents punctures. The powerRibs™ do not only stiffen the parts, but they also confine the damage zone, often allowing a damaged part to stay in one piece until it can be replaced. 
 As parts reach their end-of-life, natural fibre components provide viable and readily available options. They can be processed through the standard waste management system. With current waste-to-energy plants allowing for highly efficient thermal energy recovery, natural fibres can essentially be considered as a form of renewable energy source. This presents a viable end-of-life scenario rather than following the traditional path to landfill that carbon fibre parts largely take.
From race to road
While the new M4 GT4 will start to fight for podiums in the GT4 class from 2023 onwards, the next milestones are already in sight. Taking the findings and experience gained on the track as a basis, these new material technologies will also find their way into BMW M models, and BMW M Performance Parts, as stated by BMW Group.
The development collaboration between BMW Group Research and Bcomp is also working on the use of new sustainable material solutions for future production models. Developing such innovative materials forms a key element of the sustainability strategy of the BMW Group, which is seeking to lower its vehicles' life cycle carbon emissions by over 40 per cent by 2030 compared to 2019 levels.
"We are honoured and happy to look back on such exciting joint milestones and even more on the adventures lying ahead of us with BMW," comments Johann Wacht, Manager Motorsports and Supercars at Bcomp. "Proving the performance of ampliTex™ and powerRibs™ on the highest level of Formula E and the DTM Class 1 era, and now embracing natural fibre parts to such a high extent on the new M4 GT4 customer racing program is a consequent and unparalleled statement towards scaling sustainable lightweighting. Working closely together with the motorsport and road departments of BMW M enables us to push the limit of natural fibre solutions. We share the clearly defined goal to use the full potential of motorsports as a test bench and accelerator for green technologies, eventually enabling sustainability benefits for wider society with some of the most exciting roadgoing sportscars."