Toyota (WedsSport Bandoh) and Subaru on pole at Fuji Speedway
Sakaguchi wins pole position in WedsSport GR Supra! In GT300, the Subaru BRZ R&D Sport wins a second straight class pole.
Official Qualifying sessions for the Fuji GT 450km race, Round 2 of the 2022 SUPER GT series, took place on May 3rd at Fuji Speedway in Shizuoka Prefecture. The GT500 class Pole Position was won by Sakaguchi in the No. 19 WedsSport GR Supra (Yuji Kunimoto/Sena Sakamoto). The GT300 class pole was taken by Yamauchi in the No. 61 Subaru BRZ R&D Sport (Takuto Iguchi/Hideki Yamauchi) for the second straight time following Round 1. These two cars will start from the front of their respective class grids in tomorrow's (May 5th) race.
On this day the Fuji Speedway was blessed with fair skies, but when the GT500 class Q1 qualifying session started at around 3:33 in the afternoon, the air temperature was 14 degrees C. and for this reason the cars took three or four laps to warm up their tires and finally began their time attacks with about four minutes left in the session. The first to post a target time of 1'27.940 was the No.12 Impul Z (Kazuki Hiramine). After that, the No. 37 KeePer Tom'S GR Supra (Ritomo Miyata) brought that time down by a big margin with a lap of 1'26.340 to take top spot on the time board. As it began to look as if car No. 37 would finish fastest in Q1, in the checkered flag lap the No. 36 au Tom'S GR Supra (Sho Tsuboi) recorded a new top time of 1'26.301. The session ended with this as the fastest time. Finishing third fastest was a Honda NSX-GT, the No. 8 Arta NSX-GT (Nirei Fukuzumi), while fourth position went to a Nissan Z GT500, the No. 24 Realize Corporation Advan Z (Daiki Sasaki), which meant that for the second time in a row, following Round 1, all three makers competed at the top with one car in the top three.
The 10-minute GT500 class Q2 started at 4:11 in the afternoon with the top eight qualifiers from Q1 competing. With just under four minutes remaining in the session, the No. 36 au Tom'S GR Supra (Giuliano Alesi) started off the attacks with a time of 1'26.974. Next, the No. 8 Arta NSX-GT (Tomoki Nojiri) beat that with a time of 1'26.569 as the battle for pole position intensified. In this Q2 competition where the cars on Yokohama tires were proving especially fast, the No. 19 WedsSport Advan GR Supra (Sena Sakaguchi) moved into top position with a time of 1'26.149, after which he improved on that in the checkered flag lap with a time of 1'26.137 to take pole position. Taking 2nd position was another car on Yokohama tires, car No. 24 (Kohei Hirate). Third position went to the No. 3 CRAFTSPORTS MOTUL Z (Mitsunori Takaboshi), giving two spots in a row to the Z cars. The fastest qualifier among the Honda NSX-GT cars was No. 8 in 5th position.
"This time I was able to take my first pole position as a regular driver (his previous pole was as a substitute driver for car No. 37), so I am very happy with this result, said Sena Sakaguchi. Up until the start of Q2, [teammate Yuji] Kunimoto-san was telling me about the fine points of the car's condition. Believing what he said, I was able to run my time attacks with confidence, and I found that the condition of both the car and the tires was so good that I was able to run with a better feeling than I can remember in quite a while, so I feel great. It is so enjoyable to come to this circuit with this team where everyone feels at home, and that made me feel free to give my opinions, so after that I was just wanting to get a good result. Because of all that, I feel so happy that the result was a pole position."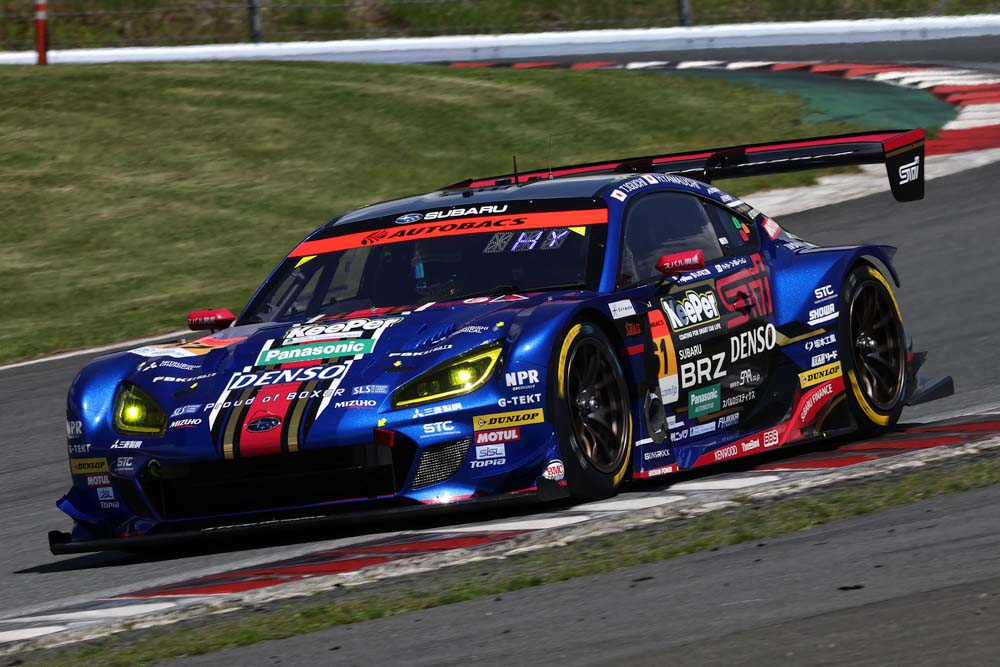 The GT300 class Q1 session was competed in two groups, A and B based on the team rankings after the previous round. In Group A, the No. 96 K-tunes RC F GT3 (Shinichi Takagi) was fastest in Group B it was the No. 9 Pacific hololive NAC Ferrari (Kei Cozzolino). In Q2, competed by the top eight qualifiers from the two groups, for a total of 16 cars, it was Yamauchi in the No. 61 Subaru BRZ R&D Sport (Takuto Iguchi/Hideki Yamauchi) who made the fastest attack to take his second GT300 class pole in a row following the one in Round 1.
Hideki Yamauchi: "This pole position is the result of everyone's cooperation. Because we were able to get to this point thanks not only to myself and [Takuto] Iguchi-san and the team's efforts but also because of the support of so many people. This is our second pole position in a row this season, but since in the last round we weren't able to get many series points (9th place), this time it is not only the pole position but tomorrow' race that is so important. So I want to concentrate and do my best again tomorrow."