24H Daytona - A golden anniversary to remember for Hurley Haywood
The sportscar legend recalls his stunning 24 Hours of Daytona victory 50 years ago.
For Hurley Haywood, his third attempt in the Rolex 24 At Daytona was a charm and helped launch a successful road racing career that lasted decades.
Fifty years after his stunning 1973 victory, the 74-year-old driver has fond memories of that weekend co-driving the No. 59 Brumos Racing Porsche Carrera with team owner Peter Gregg, a Jacksonville, Florida, Porsche dealer.
"We never thought we could win the race overall," Haywood said.
Why?
Because the Carrera had so many exotic factory parts it had to be classified as a prototype. 
"All the underpinnings on that car – the engine, suspension, gearbox, brakes – were all from a Porsche RSR," said Haywood, who is tied with Scott Pruett with a record five Rolex 24 overall wins. "Porsche wanted to test all that stuff to make sure it was working properly, but they couldn't get it homologated to run it in GT."
The Porsche factory sent one of these cars to Gregg and an identical car to Roger Penske to compete in the twice-around-the-clock endurance event.
"In typical Brumos fashion, when we got the car, we went through everything to make sure it was all tight and where things were supposed to be," Haywood said. "The crew found the flywheel bolts were loose and Peter called Roger and told him he needed to check that. Roger thought Peter was screwing around with him and they didn't do it and that's what put them out of the race."
And that turned into a huge benefit for Brumos. When the Penske machine – driven by Mark Donohue and George Follmer – retired, Porsche engineers flooded the No. 59's pit area, including Porsche's top engineer Norbert Singer.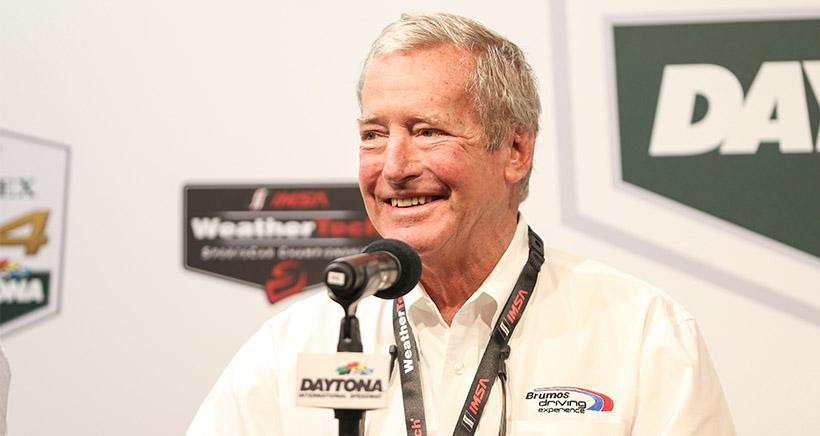 While other teams arrived in big haulers and hired chefs for their hospitality areas, Haywood and Gregg slept in the car trailer and dined on fast-food hamburgers. Haywood was in the car for more than half the race.
"It was fun for me because I was 23 and I'd only been racing for two years," said Haywood. "Suddenly, I was at Daytona in a factory car racing against Mark Donohue and George Follmer and we're pretty much keeping pace with those guys. That was a real learning curve for me and exciting. I remember during the night racing against George and Mark and that really built my confidence up."
As the sun was coming up over the track, Haywood was cruising down the backstretch at about 175 mph. As the Carrera approached NASCAR Turn 3, Haywood got an unexpected jolt.
"This large seagull came crashing through the windshield," Haywood said. "Half its body was in the cockpit and half the body was outside the car. The windshield didn't cave in."
Haywood didn't panic. He radioed his team in the pits to explain what happened. 
"I called in and said 'Guess what guys? A bird just crashed through the windshield,'" Haywood recalls. "They radioed back and told me, 'Stay out as long as you can. If the windshield collapses, then come in.' That allowed them to find a replacement for the windshield. They took it off a street car. Once they had a windshield, they brought me in and changed it out really quickly."
Haywood, who scored 13 career wins at Daytona including races shorter than 24 hours, said competitors called the Brumos victory "a fluke." Several weeks later, the No. 59 entry won the Mobil 1 Twelve Hours of Sebring and launched Haywood's highly decorated racing career, which includes three victories in the 24 Hours of Le Mans.
"That win in 1973, and winning at Sebring, back-to-back, did change the course of my career because it got the attention of Porsche," Haywood said. "After those races, Peter assigned me to the Porsche 917/10, which was a Can-Am car. I raced Can-Am in 1973 and finished third behind Donohue and Follmer. That was key to set my path with Porsche.
"The 917/10 was a difficult car to manage. After my third Rolex 24 victory, Porsche asked me to come onboard and race at Le Mans with their factory team. It certainly helped me. It helped me start with Porsche and helped me start a résumé that I'm pretty proud of."